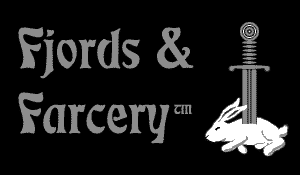 Fjords & Farcery, the Stupid Fantasy Role Playing Game, is not yet available online.
You are encouraged in the meantime to sit around a table with your friends, staring off into space and pretending that you are a group of gamers playing Fjords & Farcery. Marbles can be used to simulate polyhedral dice, and paper towels will serve for character sheets.
Send me an email at jja@nac.net with the word 'FARCE' in the header, and I'll alert you when the game is available.